HAMANN HL-CONT PLUS sewage treatment plants (STP), or marine sanitation devices (MSD), are available in many different sizes, offering treatment capacities from 3000 litres/day up to 288000 litres/day. Stainless steel construction on frames, top-quality components and extensive customisation options make these systems the all-rounders in our STP program. HAMANN HL-CONT PLUS plants are renowned for their compact dimensions. In addition, they can be almost completely assembled at the location of installation on board the vessel.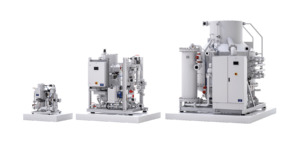 ---
---
KEY BENEFITS HAMANN HL-CONT PLUS
EXTENSIVE CUSTOMIZATION OPTIONS
We offer a wide range of customization options for HL-CONT PLUS sewage treatment plants. This enables us to supply a system that exactly meets our customer's specifications.
DISMOUNTABLE FOR RETROFITTING
HAMANN plants can be almost completely assembled at the location of installation on board the vessel to facilitate movement to the site through most doors and hatches. A huge benefit in refit projects, where this feature can often spare cutting an opening into the hull, saving a lot of time and costs.
EASE OF OPERATION & LOW MAINTENANCE
Routine functions on HAMANN HL-CONT PLUS plants are fully automatic and no specialised skills are required for daily operation. Our technology eliminates the need for filters and membranes, which would require a lot of work for regular cleaning and replacement. Routine maintenance on HAMANN plants can be carried out quickly and easily by the crew on board. The open design allows instant access to all components for inspection and service purposes.
---
HAMANN HL-CONT PLUS MAIN SPECS
| | 0125 | 025 | 05 | 10 | 20 | 40 | 80 |
| --- | --- | --- | --- | --- | --- | --- | --- |
| Capacity (cu m/24h) | 3 | 6 | 12 | 24 | 48 | 96 | 192 |
| People on board (180 l/24h) | 16 | 33 | 66 | 133 | 266 | 533 | 1.066 |
| Multi-plant systems | Two or more HL-CONT PLUS plants can be configured to operate as a system, providing redundancy and/or customised treatment capacity | | | | | | |
| Basic measurements* w/d/h (m) | 0.9/0.8/0.9 | 0.9/1.2/1.1 | 1/1.4/1.4 | 1.2/1.7/1.8 | 1.6/2.1/2.1 | 2.2/2.7/2.3 | 2,3/3.9/3 |
| Weight empty (kg) | 165 | 312 | 691 | 880 | 1,600 | 2,036 | 2,684 |
| Electrical consumption (kW) | 1.2-4.8 | 1.7-4.8 | 2.6-7.4 | 3.4-7.7 | 5-9.8 | 10.2-24 | 11.1-24 |
| Certification & Compliance | IMO MEPC.227 (64) | EU MED Modules B & D | USCG Type 2 (33 CFR 159) | | | | | | |
PLEASE NOTE: This information is not to be used for design purposes. Subject to change without notice! The detailed technical specifications and all information on the scope of delivery are given in the product specifications of the respective plant model. Please contact our sales team via sales@hamannag.com.
* Basic measurements of main unit
---
FROM SMALL TO LARGE: SEWAGE TREATMENT SOLUTIONS FOR ALL VESSEL TYPES AND SIZES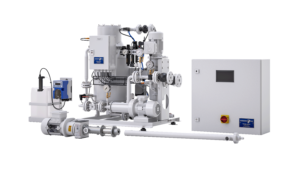 The HL-CONT Plus 0125 is the smallest of the range offering a capacity of 3.000 l/day.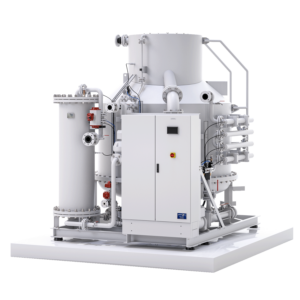 At the upper end of the range, the HL-CONT Plus 80 offers a treatment capacity of 192.000 l/day.
---
HAMANN HL-CONT PLUS SEWAGE TREATMENT TECHNOLOGY
PREPARATION:
CREATING THE SEWAGE MIX
HAMANN HL-CONT PLUS sewage treatment plants are designed to process both blackwater and greywater as a sewage mixture. This mixture is created in the sewage mixing tank from which it is pumped into the sewage treatment plant. Depending on the tank configuration on board, greywater and/or blackwater are transferred into the sewage mixing tank to create the sewage mixture. When the filling level in the sewage mixing tank reaches a predefined level, the feeding pump of the sewage treatment plant starts to operate and the treatment process is initiated.
MACERATION
The sewage mixture from the sewage mixing tank is first run through a macerator to chop up solid and fibrous components.
TSS/COD/BOD REDUCTION
By means of our Dissolved Air Flotation (DAF) technology, HAMANN HL-CONT PLUS sewage treatment plants separate the suspended solids (TSS) and reduce the chemical (COD) and biological (BOD) oxygen demand. The sewage is enriched with air under a pressure in the saturator. After being discharged into the flotation tank through the pressure release valve, the excess air forms micro bubbles. A flocculant is added in order to let air bubbles and suspended particles form larger flakes. These flakes float upwards, creating a sludge foam on the surface and leaving the clear phase in the lower part of the flotation tank. The sludge foam spills into the sludge compartment and is subsequently fed into the ship's sludge tank.
DISINFECTION
The already largely purified sewage is finally exposed to UV radiation to degrade the DNA of bacteria and microorganisms, rendering them incapable of reproducing and infecting. After this finishing step, the treated sewage from the HAMANN HL-CONT PLUS sewage treatment plant is safe to be discharged overboard (if permitted).
---
3 MORE REASONS TO CHOOSE HAMANN
OUTSTANDING PRE-SALES & AFTER-SALES CUSTOMER SUPPORT
We are the specialist partner for sewage systems and are at our customer's side from the planning stage to operation. With over 40 sales agents and service partners in the HAMANN GLOBAL NETWORK we provide customer support and technical field service around the globe.
TAILORED SOLUTIONS
We listen carefully to what the customer's requirements are. We provide expert consultancy on sewage and greywater systems on board ships. And then we offer the customised system that best suits the customer's project. Providing customer specific solutions is part of HAMANN's DNA.
QUALITY MADE IN GERMANY
All our products are designed and made in Hollenstedt, Germany, according to our accredited ISO 9001 quality management system. We only use high quality materials and components from renowned manufacturers. Since 1972, we have supplied sewage treatment equipment to more than 5500 superyachts, ferries, cruise ships, commercial and naval vessels all over the world.
---